Water Colours

I have had an interest (and some talent!) for drawing and painting since I was very young. Only recently, during the Autumn of 1999, did I decide to take up some formal (well, adult evening classes!) training as I longed to be able to use properly the beautiful watercolour paints I had received as a gift. I started, rather ambitiously, with a portrait of my sister Jeanette, from a photograph of her taken at my wedding in 1997.

Jeanette
Here are some more of my paintings.
Click on the image to view a larger version.

Bennachie with willowherb
This one is of Bennachie, the local range of hills which provide a distinctive and prominent landmark for miles around, and forms part of the view from our home. Bennachie has been painted in all seasons and from all angles by local artists! On the top of the highest point in this picture, known as the 'Mither Tap' but not actually the highest point, there are the remains of a Pictish Hill-fort. Other hill-forts in the area include Tap O'Noth and Dunnideer. The hill-forts are only a few miles apart and when you have climbed up to one of them and looking across to the others, it is quite easy to imagine beacons being lit by the people who built and inhabited these structures, to communicate warnings etc.
This next picture is of the Balquain stone circle near Inverurie, again with Bennachie in the distance. There are many such stone circles, known as recumbant circles from the large monolith lying on its side, in this area and more info and photos can be seen on the stones page.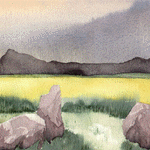 Balquain
There are also many sculptured stones from the time of the Picts here. This picture is of the Maidenstone, a local class II stone, on a cold, bright, frosty morning. This stone is also featured on the stones page. I am also working on a picture of the 'Craw Stane', another local symbol stone.

The Maidenstone
I scanned this picture of my mum,dad and nan at my brother Pete's wedding when it was unfinished as I emailed work in progress to my husband who was away from home at the time. I forgot to rescan the completed picture before I sent it to my nan!! I enjoy doing portraits and I am currently completing one of my brother Pete.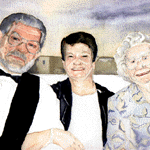 Dad, Mum and Nan
A pencil drawing (unfinished) of our wedding day
This is quite a large drawing, only just under half the picture is shown, taken from a photograph of my husband Peter and myself on our Wedding day. We married four years ago this August in the barn at our previous home. It was a very relaxed day, the ceremony was interrupted on a number of occasions by the swallows flying in and out of the barn to feed their young in a nest on the rafters! I, having consumed a leetle pink champagne, obliged with a slip up over the vows!!
I have been interested in calligraphy for many years and have recently begun to combine the two and enjoy illustrating favourite poems and sayings.
I can offer Bed and Breakfast facilities for any one wishing coming to this area and are ideally placed for exploring and visiting the wealth of antiquities and sites of archaeological and historical interest here. As can be seen from the pictures on these pages, the scenery here is stunning and constantly changes with light providing infinite subjects and inspiration for paintings!! Visit our B&B page for more info.
[< < | | A Collection of Amateur Artists | | > >]


View My Guestbook
Sign My Guestbook